BAMBOO BY NATURE QUEEN - Pocket Spring Mattress - 365 Night Comfort Swap - Life Time Warranty - Australian Made - Free Delivery*
$1,299.00 $1,999.00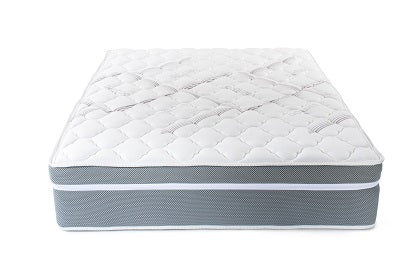 Bamboo By Nature Queen Size Pocket Spring Mattress 
Australian Made!
Adaptive Technology - Cooler in Summer / Warmer in Winter
2030mm x 1530mm x 320mm
Lifetime Factory Backed Warranty

365 Night Free Comfort Swap

The Comfort

5 Different Comfort Options

Plush - Soft - Medium - Gently Firm - Firm Comfort Options

Bamboo Infused Adaptive Quilt Cover with 300gsm of wool Blend Wadding and 18mm Breathable Open Cell Hyper Soft Foams

100mm Breathable Open Cell Comfort Layer Foams (Comfort Swap) 2 x 50mm
Anti-Microbial Foams Offer, Lifetime Protection Against... Dust Mites, Bacteria, Fungi, Mould & Mildew, Odour.
The Support
Optimal Edge 7 Zone Pocket Spring Support System
768 Individual Twice Tempered Springs

2.0mm Centre Zone Pocket Spring Wire (This is for your Hips)

1.8mm Head and Foot Zone Pocket Spring Wire (This is for your Shoulders)

Double Spring Row Edge Support (2.4mm Wire) (This Means you can Sleep on the Edge without rolling out)

Double Spring Rows Head and Foot End Support (2.4mm Wire) (This gives Stability and reduces Partner Disturbance.

(No Memory Foams or Latex in This Mattress)
Comfort Rating (9) Plush
(1 being Extra-Firm and 10 Being Extra Plush)
Great for side sleepers
Comfort Rating (7) Soft
(1 being Extra-Firm and 10 Being Extra Plush)
Good for many back sleepers
Good for Some stomach sleepers
Good for Most side sleepers
Comfort Rating (5) Medium
(1 being Extra-Firm and 10 Being Extra Plush)
Good for many back sleepers
Good for most stomach sleepers
Good for most side sleepers
Comfort Rating (3) Gently Firm
(1 being Extra-Firm and 10 Being Extra Plush)
Good for most back sleepers
Good for Some stomach sleepers
Too Firm for side sleepers
Comfort Rating (1)  Firm
(1 being Extra-Firm and 10 Being Extra Plush)
Back Sleepers Only
Bamboo Mattress Top Cover!
  Your natural mattress ticking. Bamboo is a hygienic, natural solution which can replace chemicals and is friendly to the environment.  
Bamboo is a very special plant, not only because it is the strongest and fastest growing plant on earth but also because of its exceptional natural antibacterial qualities.
It develops a natural barrier against bacteria. Bamboo offers a higher moisture absorption than cotton, is amazingly strong, and the yarns weave or knit a very breathable textile.
  ADAPTIVE QUILTING!
Adaptive treats the textile with a temperature sensitive polymer and provides a dynamic response: the warmer it gets, the more Adaptive will evaporate moisture. More evaporation means a dryer and cooler sleeping environment.

How does it work?:

1. Your body heats up the textile.
2. Adaptive pushes the evaporation "gas pedal".
3. Extra evaporation reduces humidity and has a cooling effect.
4. Adaptive keeps you comfortably cool and dry and improves the quality of your sleep.